Here's your exclusive excerpt of This Might Hurt!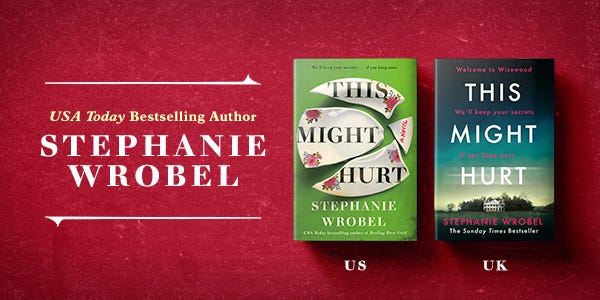 Hi there—

Welcome to readers new and old. As promised, in this edition I'm sharing the prologue of my second book,This Might Hurt, with all of you—and only you! It's my way of saying thank you for your support. Without you, I wouldn't be able to keep doing what I love every single day.

Okay, enough babbling. Here comes the prologue...

Split

THE GALLERY IS the size of a high school gym. Vaulted ceiling, white walls, movie screens on two of them. A dozen visitors line the perimeter of the dim room. Shoulder blades tap the walls. A low buzz fills the space while the spectators wait.

In the middle of the room is a chair and table. On the table is a medical tray: gloves, gauze, gardening shears. A spotlight illuminates the empty chair.

Waiting with a briefcase-­sized camcorder on his shoulder is a crooked-nosed cameraman.

A door opens. When the artist enters, a hush falls. She glides to the center of the room. The cameraman focuses his lens on her. The movie screens fill with her image: thick lashes, long neck, steely gaze. This is not her first stunt, will be far from her last.

She puts on the gloves and stares straight into the camera. "Fear is not real," she says, "unless we make it so."

She sits down.

Picks up the shears.

Extends her tongue.

Cuts.

Gasps but does not cry.

The camera catches it all. On the screens the audience watches a tongue split in half. Someone faints. Others wail. Not the artist. She remains steady.

Blood pours from her mouth.
What'd you think?! I'd love to hear from you.

If you want to find out what happens next, you can pre-order the book here (US), here (UK), and here (Canada).
Until next time,
You can pre-order THIS MIGHT HURT at the links below.

🇺🇸
Amazon |  Apple Books | Barnes & Noble | Books A Million | Bookshop.org | IndieBound | Penguin Random House

🇬🇧
Amazon | Apple Books | Bookshop.org | Kobo | Penguin | Waterstones | WH Smith

🇨🇦
Amazon | Indigo | Simon & Schuster